A town where the past and present coexist and continue to create unique value in Hyogo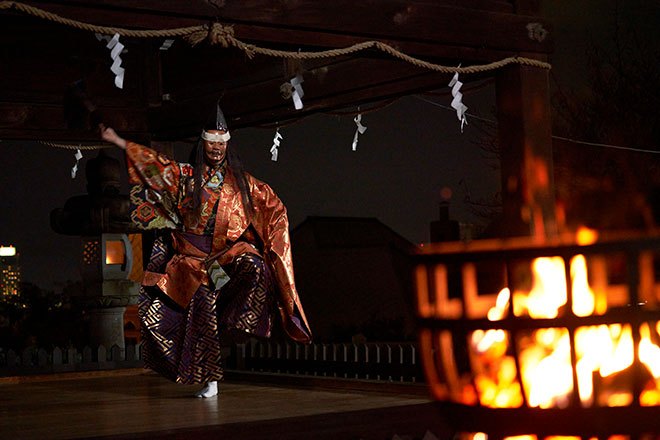 Discover traditional geisha culture at a hot spring lodge, savor the finest sake in Japan, and enjoy a special Noh performance in a sacred space.
Tour highlights:
●Witness a Noh performance by traditional practitioners in a sacred space.
●Experience geisha culture, Japan's oldest form of entertainment, over dinner at your lodging.
●Tour breweries at Nada-Gogo, Japan's top sake producing area, and savor fine foods and sake pairings at a sake tasting. 
Day 1: Discovering Hyogo's unique culture and the charm of hot springs
【Arimasanso Goshobessho】
After meeting up at Shin-Kobe Station, we travel by private car to Arimasanso Goshobessho, where we check in for the day. The lodge, known for its rich natural environment and seasonal flower blooms, boasts over 2800 square meters of property and a river flowing through the grounds. Guest rooms are adorned with pieces by the world-famous artist Hirosuke Watanuki and offer a luxurious atmosphere and comfort that leaves nothing to be desired. Here you can rest and recharge after your journey. The exceptional quality of the large hot spring bath, which is fed directly by the golden-brown waters of the sodium-chloride hot spring on site, also deserves a special mention. The spring at Arima is regarded as one of Japan's three finest hot springs, and you can enjoy everything it has to offer here. 
【The Geisha Experience】
Japan's geisha culture burst into notoriety after being featured in the 2005 film "Sayuri." Experience this unique Japanese art over dinner during your stay at the lodge (the geisha may also travel to the nearby Yuki Shrine) as women in traditional Japanese dress who specialize in the traditional arts of dance, long and short songs, and instrumental performance liven up the gathering. Guests may also enjoy the elegant dances of the geisha, performed to the tune of the shamisen, and watch as they entertain guests with brief yet elegant theatrical performances. The geisha also offer o-zashiki asobi (simple party games) for guests to participate in. Although the roots of geisha culture are many, one theory has it that they originated with the original hot spring maids of Arima Hot Spring. The long and venerated tradition of Japan's oldest form of entertainment is here for you to enjoy to your heart's content.
Day 2: Lose yourself in excellent sake and witness traditional performing arts at a historic shrine 
【Sake Tasting and Lunch at Nada-Gogo】
After finishing breakfast at the hotel and checking out, we take a brief tour of the Arima Hot Spring area before proceeding to our next destination, Nada-Gogo.
Nada-Gogo, which boasts both the highest output and densest concentration of sake producers of any region in Japan, has been a hot spot for sake production since the Muromachi Period (1336-1573 CE). Japan's top sake breweries are clustered here, and even today the region continues to produce a number of fine sake brands. After arriving by private car, we embark on a journey to understand the complexities of sake brewing while enjoying tastings under the guidance of a sake sommelier, who selects breweries on the tour according to guests' preferences.
For lunch, we enjoy a sake tasting at Soshuen, a repurposed vacation home previously belonging to one of Japan's pre-war business conglomerates. Here, guests can savor cuisine made with locally-sourced ingredients alongside glasses of sake produced right here in Nada-Gogo. Guests are sure to enjoy the excellent pairings that only a great sake region like Nada-Gogo can provide. 
Special cultural experience:  An Elegant Performance by a Elite Noh Master at a Mountaintop Shrine in an Exclusive Private Viewing 
【Noh at Kitano Tenman Shrine】
The final stop on the tour is the Kitano Tenman Shrine, an ancient and noble institution constructed in the year 1180 that enshrines Sugawara no Michizane, a Heian-era nobleman who is revered as the god of scholarship and learning. The name of the shrine inspired the name of the surrounding area, Kitano-cho, which includes the shrine's grounds. The shrine has enjoyed the devout faith of the locals since ancient times, and its location atop a hill on a long, steep road has earned it the nickname of "The Shrine in the Sky."
For this tour, we rent out an evening performance at the Noh stage on the shrine grounds for our guests to enjoy a private viewing. Performing is the Noh master Yoshiteru Ueda, who has garnered widespread acclaim as a practitioner of the traditional art. We guarantee you'll be moved when you witness the elegant performance of the elite Noh master, who is constantly trying new approaches and finding new ways to interpret the classics. We invite guests to enjoy a unique experience in a sacred space.
●Tour price:
Starts at JPY 715,000 per person
●Deadline for reservations:
One month before your tour (based on demand, no guarantee)
●Frequency:
Maximum one per month
●Minimum number of participants:
One person
●Gathering/ending point:
Shin-Kobe Station to Shin-Kobe Station
●Special notes:
・Please note that the programs provided by the individuals mentioned in the itinerary may be canceled or changed due to unavoidable circumstances including health concerns. Thank you for your understanding.
・ Participation is limited to those aged six or above (school aged children).
・The outdoor segment of the Noh performance at Kintano Tenman Shrine will be cancelled in case of inclement weather (guests will receive a partial refund)
・ See here for our usage agreement for your application.
Please inquire for reservations for the individual lodgings or restaurants mentioned on this page.
【About this tour】
This tour has been planned as part of our efforts to help achieve the SDGs (Sustainable Development Goals) adopted by the United Nations in 2015. A portion of tour fees paid by all participants will be used to maintain and pass on the tangible and intangible cultural assets of Kansai, the origin of Japanese culture, to the next generation. This aims to create a positive cycle of cultural tourism; we look forward to your participation.
【Sponsored Travel Agent】
AIR WORLD CO.,LTD.
Licensed by Ministry Transport Tourism Agency No.961