Sea, Nature and Ancient Legends in Mie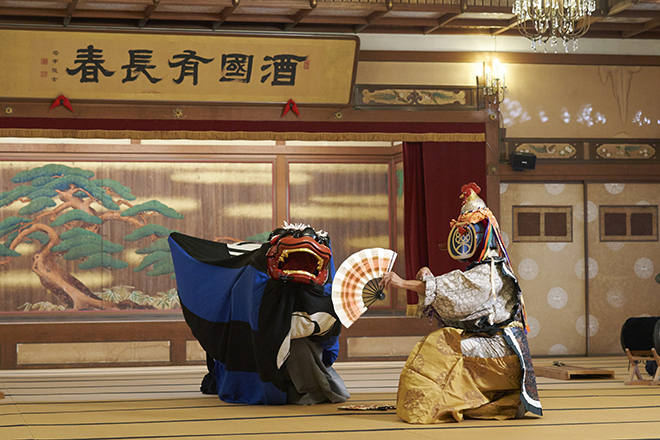 A trip to Japan's spiritual home where mythology remains alive, along with master craftsmanship in art and fishing.
Tour highlights:
●Watch a private performance of Ise Daikagura in Hinjitsukan, which is a distinguished guesthouse
that has welcomed the Japanese Imperial family and notable members of various circles.
●Experience kumiko, the traditional Japanese woodworking technique used to assemble elaborate geometric patterns.
●Pay a visit to Ise Grand Shrine, which is dedicated to the sun goddess Amaterasu, and fully enjoy seafood and pearls from Ise Bay.
Day 1: Encounter the Handicraft and Kagura Techniques That the People of Mie Have Continued to Inherit and Protect
【Kumiko and Gyugin Honten】
Kumiko, which can be found in Ise, is a woodworking technique that was developed during the Muromachi period, together with the shoin-zukuri style of architecture. Works feature elaborate patterns that are formed without using any nails. The painting-like shadows of the kumiko that are set in relief against the light that filters through are breathtaking. There are several hundred designs of kumiko patterns, with certain designs requiring 100,000 wooden pieces. You will try your hand at this woodworking technique under the guidance of Yuji Kuroda, who has received the Prime Minister's Award.
After creating your own original kumiko coaster, you will enjoy sukiyaki made with Mie Prefecture's vaunted brand-name Matsusaka beef. Please enjoy sukiyaki made with exquisite beef that melts in your mouth with just the right amount of sweet marbling at Gyugin, the long-established restaurant that was founded in 1902 in a charming castle town that prospered thanks to its position along the road leading to Ise and Wakayama.
Special Cultural Experience: Performance of Ise Daikagura by the Kandayu Yamamoto Troupe, Designated Folk Cultural Asset of Mie Prefecture
【Visit to Hinjitsukan】
Hinjitsukan, which is located right by Ise Grand Shrine in Futami, was built in 1887 as a place to rest or stay for guests of honor coming to visit the shrine. It has a long and honorable history, as historic Emperors and Imperial family members, including Empress Eisho, who was the mother of Emperor Meiji, have stayed here, as have prominent members of various circles. It was completed in astonishing speed, only two months after breaking ground. It is also an important building that symbolizes the history of Futami, Ise, having undergone major renovations in the Meiji and Taisho eras, as well as the early Showa era. In addition to the building itself, which features a contrast between the brilliant columns and beams and the white walls, the stroll garden with a gravel path wrapped around it is also splendid. This entire venue, which showcases the creativity of first-class architects and garden designers who gave color to the Meiji era, will be rented out for the performance. You can enjoy observing the building and its garden, which are like a crystallization of this colorful era that blended Western culture into old, good Japanese traditions through the process of modernization, to your heart's content.
【Ise Daikagura by Kandayu Yamamoto】
There is another reason for renting out Hinjitsukan. Here, you will enjoy Ise Daikagura, which involved lion dance troupes traveling to various provinces during the Edo period to put on performances and distribute amulets from Ise Grand Shrine. This performance will be put on by the Kandayu Yamamoto Troupe, which is one of five troupes that exist to this day. The show begins with the courageous hoka performance, which involves throwing swords and other objects, just in front of the building. The Daikagura show continues in the great hall with the lion dance and other performances. The numerous performances that have been passed down with love among people who revere Ise Grand Shrine demonstrate passionate and lively elements of drama in the form of performance art for the masses.
After the Ise Daikagura performance at Hinjitsukan, you will head to Amanemu: Luxury Resort and Onsen Spa by Aman Resorts in Ise-Shima, Mie, where you will spend the night. Dinner prepared with many of Ise's delicacies and the natural hot spring with an abundance of minerals will help you restore your energy for the pilgrimage to Ise Grand Shrine the following day.
Day 2: Enjoy Ise Grand Shrine, an Important Site in Japanese Mythology, and Treasures From Ise Bay
【Diver Hut Experience and Mikimoto Pearl Island】
When you think about Ise, you cannot forget about its seafood delicacies, most famously represented by the Japanese spiny lobster. After your visit to Ise Grand Shrine, you will be taken to the tip of the Shima Peninsula to enjoy delights from the sea, including seafood caught by divers, at Diver Hut Experience: Satoumi An. Japanese spiny lobster, horned turban, noble scallop, and other delicacies are grilled over charcoal in an exciting manner to create rustic culinary masterpieces. In addition, the divers share their stories from the sea to provide the perfect complement to liven up the meal.
Ise is also known as the world's first pearl farming site. To finish off your trip, you will go to Mikimoto Pearl Island to observe a live demonstration by the divers who have supported pearl farming. Furthermore, you will have a special opportunity at the Mikimoto Pearl Museum to try on and take pictures with crowns and bags adorned with rare large pearls. If you rediscover the charm of pearls here, you can purchase products at the Pearl Shop that is part of the museum.
【Ise Grand Shrine: Visit Inside the Outer Wall】
The following day, you will head to Ise Grand Shrine, which boasts a history of over 2,000 years and is dedicated to the sun goddess Amaterasu, which is the ancestral deity of the Imperial family. It is Japan's spiritual home, as there used to be a custom that called for everybody to make a pilgrimage to Ise Grand Shrine at least once in their lives. It is not a resplendent shrine for tourists, as the unembellished main building and torii that are made of hinoki cypress embody the simple beauty that appeals to the Japanese spirit. Saigyo Hoshi described his visit to Ise Grand Shrine in a poem, "I cannot help but to shed tears of gratitude for this existence that I cannot even begin to fathom."
At Ise Grand Shrine, you will observe the Kagura prayer by shrine maidens before going to the grand shrine. After that, please enjoy akafuku, Ise's famous dessert, and a stroll through Okage Yokocho, which is a small village that features many traditional souvenir shops carrying local products from Ise.
After your visit to Ise Grand Shrine, you also have the option to experience shaving oboro kombu at Sakatoku Kombu, a long-established shop that has single-mindedly protected the flavor of its oboro kombu by using traditional vinegar since its founding in 1912.
●Tour price:
Starts at JPY 813,000 per person
●Deadline for reservations:
Three month before the tour (based on demand, no guarantee)
●Frequency:
Maximum one per month
●Minimum number of participants:
2 person
●Gathering/ending point:
Kuwana Station /  Toba Station
●Special notes:
・Please note that the programs provided by the individuals mentioned in the itinerary may be canceled or changed due
to unavoidable circumstances including health concerns. Thank you for your understanding.
・ Participation is limited to those aged six or above (school aged children).
・ See here for our usage agreement for your application.
・ We kindly ask that males wear suits and females wear formal attire when going to the Grand Shrine.

Please inquire for reservations for the individual lodgings or restaurants mentioned on this page.
【About this tour】
This tour has been planned as part of our efforts to help achieve the SDGs (Sustainable Development Goals) adopted by the United Nations in 2015. A portion of tour fees paid by all participants will be used to maintain and pass on the tangible and intangible cultural assets of Kansai, the origin of Japanese culture, to the next generation. This aims to create a positive cycle of cultural tourism; we look forward to your participation.
【Sponsored Travel Agent】
AIR WORLD CO.,LTD.
Licensed by Ministry Transport Tourism Agency No.961