A special cultural experience that emphasizes fun in Osaka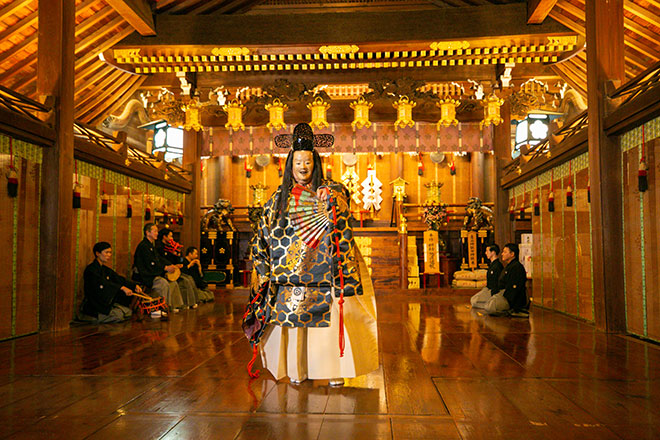 Experience diverse activities involving Osaka's refined culture and its value for the interesting.
Tour highlights:
●Watch a Noh performance played by a top Noh performer at the majestic Osaka Tenmangu Main shrine building.
●Experience the world of wabi-sabi through a tea ceremony at near Osaka's historical landmark, Osaka Castle.
●Spend a special experience of the hospitality at Otowasansoh, an inn surrounded by nature. Limited to one party per day.
Day 1: Get to know the culture, landscape, and nature of Osaka
【Tenjin Bashisuji Commercial District, Osaka Tenmangu】
The first spot you will visit is the Tenjin Bashisuji Commercial District, which is the longest of its kind in Japan. With a total length of about 2.6 km, the district, which contains an arcade and is fun even in the rain, is lined with around 800 stores. The shops are diverse, and include delicatessens, pottery shops, kimono shops, and more Among them are old, famous establishments, including a knife store that has been in business for over 200 years. Take a stroll with a professional guide and enjoy a heart-warming time interacting with the locals.
Once finished at the commercial district, you will head to Osaka Tenmangu, one of the most famous shrines in Osaka, which was built over 1300 years ago. Pray to the deity here for success in school, success in life, good fortune, and the warding off of evil.
Special cultural experience: The greatest in Noh theater on a stage that has been registered as a cultural artifact
【Inside the main hall of Osaka Tenmangu Shrine】
Once we finish visiting Osaka Tenmangu Shrine, we will head "inside the main hall", which can also be said to be the symbol of the Tenmangu shrine. The building, which exudes an elegant atmosphere in the Shoin-zukuri style, is the largest wooden structure in Osaka prefecture. For this tour, we will be renting it especially for private use and enjoying a Nohgaku play. The performance by the Ueno family, a noble family in the style of Noh in the Kansai region, is worthy of being ranked top in Japan's classical theater. After watching the play, we will experience the movements of Noh for ourselves and have a talk session with the performers. Please enjoy the magnificence of Nohgaku, which bears a part of Osaka's traditional culture, to your heart's content.

【Otowa Sansou】
A 30-minute trip by courtesy car from the center of Osaka will take you to Minoh National Park, where Otowa Sansou, your lodge for the night, is located. In stark contrast to the streets lined with skyscrapers, this healing space is surrounded by nature throughout each of the seasons. The lodge is a remodeled mansion that was built in the Taisho era (1912-1926) in pure Japanese style. This special option is limited to one party per day. The guest rooms have views of the mountains, river, trees in the courtyard, and waterfalls, and the family-friendly baths include baths designed for observing foliage and bedrock baths. The dinners are also wonderful. Enjoy sushi prepared before you by artisans, or traditional Japanese course cuisine served with an abundance of seasonal ingredients.
Day 2: Gaze at Osaka Castle as you enjoy luxurious cuisine and feel the wind at a tea ceremony
【Osaka Castle, tea ceremony】
After checking out, a courtesy car will take you to your second day's destination, Osaka Castle. This historical Osaka landmark is a popular spot among tourists both from Japan and abroad; the castle is impressive with its majestic five-story, six-floor keep. The construction is elaborate and glorious, as if to embody the dignity of Hideyoshi Toyotomi, the warlord that achieved peace and tranquility in Japan. It is worth stopping for a photo.
In the vast park where the castle stands, you will find a tearoom. Here, you can experience the joys of tea ceremonies. Tea ceremonies are not just an act of enjoying tea; they are an art form.  Receive tea from a tea ceremony master and experience the world of wabi-sabi.
【The Osaka Geihinkan Former Guest House】
Enjoy a premium lunch at the Osaka Geihinkan Former Guest House with a view of a 20,000 square meter Japanese garden against a backdrop of Osaka Castle. This facility is known for hosting state guests at the 2019 G20 Osaka Summit; its high level of prestige can be found throughout the building. With its mortar-like exterior and classical, sophisticated interior, it is filled with opulence. The restaurant offers French cuisine prepared by Chef Shu Ishii, who leads the Kansai culinary world. The menu items are fine in taste and gorgeous in presentation, and are made using a wide selection of carefully selected ingredients, including fresh local vegetables and A5 Japanese beef.
●Tour price:
Starts at JPY 760,000 per person
●Deadline for reservations:
One month before your tour (based on demand, no guarantee)
●Frequency:
Maximum one per month
●Minimum number of participants:
One person
●Gathering/ending point:
Shin-Osaka Station/Shin-Osaka Station
●Special notes:
・Please note that the programs provided by the individuals mentioned in the itinerary may be canceled or changed due to unavoidable circumstances including health concerns. Thank you for your understanding.
・ Participation is limited to those aged six or above (school aged children).
・ See here for our usage agreement for your application.
Please inquire for reservations for the individual lodgings or restaurants mentioned on this page.
【About this tour】
This tour has been planned as part of our efforts to help achieve the SDGs (Sustainable Development Goals) adopted by the United Nations in 2015. A portion of tour fees paid by all participants will be used to maintain and pass on the tangible and intangible cultural assets of Kansai, the origin of Japanese culture, to the next generation. This aims to create a positive cycle of cultural tourism; we look forward to your participation.
【Sponsored Travel Agent】
AIR WORLD CO.,LTD.
Licensed by Ministry Transport Tourism Agency No.961