The Mysterious & Carefree Journey in Shiga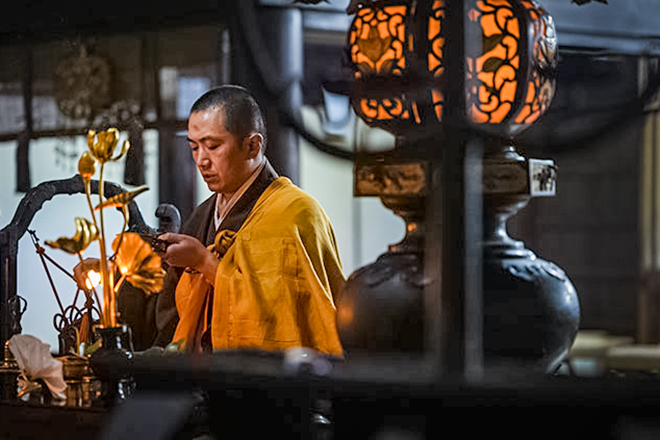 Discover the memorable history of Shiga Prefecture by experiencing the culture of an ancient temple that has survived countless wars and tracing the history of Japanese tea.
Tour highlights:
●Take part in memorable cultural activities such as Zen meditation and goma prayer rituals at the prestigious temple Mii-dera, which was built around 1,300 years ago.
●Visit a tea garden and immerse in the cultural traditions of Shiga Prefecture, the birthplace of Japanese tea, through a hojicha tea ceremony.
●Enjoy the finest hospitality at a temple lodging with a refined atmosphere, whose entire building is rented to only one group of guests per day.
Day 1: Experience the renowned traditions and elegance of Mii-dera, also known as the "Phoenix Temple"
After meeting your fellow tour mates at Kyoto Station, we will start making our way to Shiga Prefecture, a neighboring prefecture of Kyoto Prefecture. A 30-minute drive in a shuttle vehicle through the charming streets will take us to our destination, Mii-dera.
Special cultural experience:  A hands-on cultural program that allows you to experience the dignity of Japanese Buddhism at a historic ancient temple
【Mii-dera】
Mii-dera, an iconic ancient temple in Shiga Prefecture with a long history, is also known as the "Phoenix Temple" because of its continued existence despite having been entangled in many wars in the 1,300 years since it was founded. The temple is home to 64 national treasures and 720 important cultural assets, highlighting its prestigious status in addition to its long history. At this temple, you will have the chance to take part in some memorable cultural activities that have been specially planned for the participants of this tour, including a Zen meditation session in the garden of this historic site of scenic beauty, a visit to the three-story pagoda that has been opened to the public only once in the past, goma prayer rituals at the Kannon Hall, and stepping on the Kangetsu Stage that is usually reserved only for ritual performers. You are free to participate in the activities you are interested in and experience the dignity of Japanese Buddhism through these hands-on activities. 
【WAQOO Mii-dera】
After these hands-on activities, it is time to check in to WAQOO Mii-dera located on the temple premises. With the entire 800㎡ area and your guest room to yourself, you can relieve the fatigue from travel while enjoying the finest hospitality at an accommodation whose entire building is rented to only one group of guests per day. The interior design of WAQOO Mii-dera was produced by the architect Shuwa Tei, who focused on delivering a modern style with some subtle hints of traditional Japanese culture. The altar room features a statue of Dainichi Daisho Fudo Myoo, evoking a dignified atmosphere that can only be experienced at a temple lodging. A variety of dinner plans that cater to the individual requests of guests are available. Besides vegetarian shojin ryori cuisine prepared according to the precepts of Buddhism, you can also enjoy catered dishes prepared by sushi chefs and famous kappo restaurants, and even a special dinner alongside an on-site performance by Seiwa Shijoryu, a group of up-and-coming chefs based in Shiga Prefecture, upon request.
Day 2: Look back on the history of Japanese tea with a 10-dan tea master and professional
【Mii-dera Kannon Hall and Tongu Grand Tea Garden】
The morning of Day 2 of the tour begins with a religious service at the Kannon Hall of Mii-dera. You can join the monks in a traditional ceremony that has been passed down for thousands of years while taking in the fresh morning air. Putting your palms together like the Nyoirin Kannon in the hall while chanting sutra and praying will put you in a peaceful state of mind. After the service is over, we will have breakfast before boarding a shuttle vehicle to Tongu Grand Tea Garden.
Tongu Grand Tea Garden is a vast tea garden formed on hilly terrain, and the entire area is covered with lush greenery in early summer. The history of Japanese tea dates back to the moment when Saicho, the monk who founded Enryaku-ji Temple on Mt. Hiei in Shiga Prefecture, planted tea seeds that he had brought back from the Tang Dynasty (present-day China), where he had traveled to on his religious journey. On the back of this, Shiga Prefecture has long flourished as a tea production area. Mr. Kenji Yoshinaga, a 10-dan tea master, will guide us through the origins of this traditional industry that had emerged from peaceful village forests.
【Hojicha Hands-on Experience】
Next, we will drop by Maruyoshi Omicha, a company founded over a century ago and currently headed by Mr. Yoshinaga, who had accompanied us on our trip to the tea garden, for a hojicha hands-on experience. You will get to compare several different types of hojicha and enjoy the differences in flavors depending on the brewing method used. You will then proceed to roast your own tea leaves and try your hand at making your own original tea blend under the guidance of Mr. Yoshinaga. When your tea leaves are ready after checking on their aroma and color as they gradually evolve over the course of roasting, it is time to sit down and enjoy a cup of your delicious, freshly roasted tea alongside some tea sweets. Your finished tea blend will then be packed in a bag and presented to you. 
●Tour price:
Starts at JPY 375,000 per person
●Deadline for reservations:
One month before your tour (based on demand, no guarantee)
●Frequency:
Maximum one per month
●Minimum number of participants:
One person
●Gathering/ending point:
Kyoto Station/Kyoto Station (or Maibara Station)
●Special notes:
・Please note that the programs provided by the individuals mentioned in the itinerary may be canceled or changed due to unavoidable circumstances including health concerns. Thank you for your understanding.
・ Participation is limited to those aged six or above (school aged children).
・ See here for our usage agreement for your application.
・Various options are available for the dinner served at WAQOO Mii-dera, which will be conveyed to guests in advance.
・The minimum age for participating in this tour is 6 years old.
Please inquire for reservations for the individual lodgings or restaurants mentioned on this page.
【About this tour】
This tour has been planned as part of our efforts to help achieve the SDGs (Sustainable Development Goals) adopted by the United Nations in 2015. A portion of tour fees paid by all participants will be used to maintain and pass on the tangible and intangible cultural assets of Kansai, the origin of Japanese culture, to the next generation. This aims to create a positive cycle of cultural tourism; we look forward to your participation.
【Sponsored Travel Agent】
AIR WORLD CO.,LTD.
Licensed by Ministry Transport Tourism Agency No.961