Finding the heart of beautiful people in Tokushima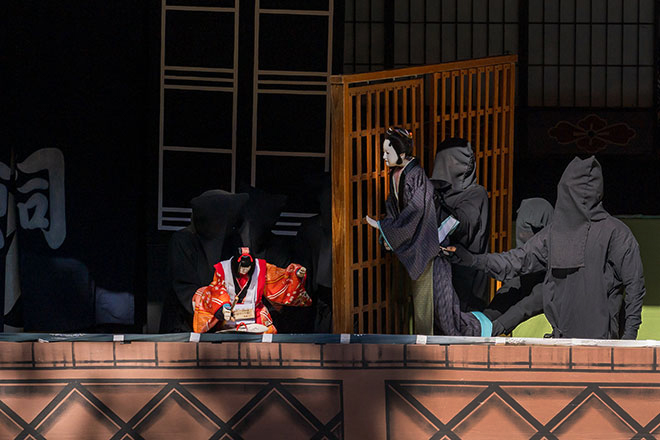 On this tour, encounter the traditional culture of Tokushima passed down through generations while enjoying the natural beauty of its seas, mountains, and rivers.
Tour highlights:
●Enjoy a special performance of the unique folk entertainment of Ningyo Joruri puppet theater on a reserved stage.
●Full of activities and experiences unique to Tokushima, including whirlpool and indigo dyeing experiences, and a walk through the secluded Iya Valley.
●Gather round the hearth of a samurai home and savor old-fashioned rustic cuisine.
Day 1: A lineup of fascinating experiences available nowhere else
【Whirlpool Experience, Sushi-ichi】
The Orientation Cruise is a 90-minute cruising boat ride through a number of sea straits. The main goal is to view the whirlpools of Naruto, among the largest in the world. This is only place in Japan where you can enjoy a close-up view of these thrilling works of natural art created by variations in the tides of the surrounding seas. For the boat, we have selected an elegant model by SeaRay, one of the world's top manufacturers, so you can ride in comfort amid the excitement.
After returning to port, you will be taken to lunch. Your destination is Sushi-ichi, a famous Naruto restaurant that has won the admiration of many a gourmet. Since their founding, they have mainly carried seafood caught in the waters near Naruto, and they always have a selection of fresh seasonal ingredients. The exquisite local ingredients include sea bream, flounder, turbot, spring mackerel, and summer pike conger eel. Sit down at the counter, and enjoy the chef's selection of nigiri sushi.
【Indigo Dyeing Experience, Iya Onsen Hotel】
After your meal, you will continue on to the Hon-Aizome Yano Kojo dyeing factory to see the traditional techniques and indigo dye-making process passed down in Tokushima Prefecture since ancient times. Also known as Japanese blue, the color is based on dye fermented from leaves grown naturally without any chemicals, and it is popular among apparel makers and designers around the world. On this tour, you can listen to a talk directly from representative Ranshu Yano, as well as actually try indigo dyeing for yourself to experience its beauty firsthand. You can try to dye ranging from handkerchiefs and scarves to even wood and leather goods(additional fee needed). Try creating a one-of-a-kind item that makes a perfect souvenir under the guidance of the artisans.
After the factory, you will move on to your lodgings for the night, Hotel Iya Onsen. In addition to its location surrounded by the valley scenery, its open-air baths accessible by ropeway with views of the valley's beauty, and fantastic guest rooms with a refined Japanese-Modern style, the dinner menu featuring a selection of local seasonal delicacies is also highly regarded.
Day 2: A wealth of sights to see. Spend a relaxing time in secluded mountains
【Iya Valley Walk, Old Kita Residence】
After checking out of the hotel, your first destination on the second day of the tour will be Iya Valley, one of the three most secluded spots in Japan. It is well known for the 45m Iya-no-Kazurabashi Bridge connecting the banks of the river, and actually crossing the swaying suspension bridge made of vegetation is a thrill like no other. There is a wealth of other sights to see, including the sweeping view of the winding river in Hinoji Gorge, and the Shoben Kozo statue standing atop a towering cliffside. You will also visit the Ochiai Village Observatory, which offers a view of the unspoiled scenery of a mountain village selected as a national preservation district for important traditional buildings.
You will have lunch at the Old Kita Residence. The interior of this renovated historic samurai home features a sunken hearth, giving it an old-fashioned atmosphere. Enjoy dekomawashi, a rustic dish of potatoes grilled on skewers flavored with miso sauce, along with wild vegetable tempura and handmade soba noodles. After your meal, you can get a taste of the rural culture listening to simple folk songs sung by Reiko Tsuzuki, who prepares the food.
Special Cultural Experience: Feel the wonder of the enriching art and culture of Ningyo Joruri puppet theater
【Ningyo Joruri Puppet Theater Performance】
In Ningyo Joruri puppet theater, a group of three performers controls the puppets to weave a story accompanied by the shamisen (Japanese stringed instrument). Said to have originated in the late 16th century, this unique style of puppet theater uses movements of the puppets' eyes, eyebrows, and mouths, etc., to express emotions as well as the limbs. Ningyo Joruri puppet theater thrived in Tokushima Prefecture in particular, and it has strong roots there as an enriching form of culture and entertainment. Several special noson butai (outdoor stage facilities for Joruri performances) still exist in many communities. On this tour, the Inukai Noson Butai will be reserved for an exclusive special performance. In addition to watching the impressive theater program and a rare exhibition of fusuma karakuri (a performance using moving painted paper screens), after the performance, you will have the opportunity to actually touch the puppets and take a backstage tour. This experience will allow you to feel the wonder of this form of folk entertainment passed down through generations.
●Tour price:
Starts at JPY 1,553,300 ( a party of two) Performance at Inukai/Onosakura Noson Butai
Starts at JPY 1,265,500 ( a party of two) Performance at Awa Jurobe Yashiki
●Deadline for reservations:
One month before the tour (based on demand, no guarantee)
●Frequency:
Maximum 2 per year (for use of Inukai /Ono Sakurano Noson Butai)
●Minimum number of participants:
Two people
●Gathering/ending point:
Tokushima Station/Tokushima Station
●Special notes:
・Please note that the programs provided by the individuals mentioned in the itinerary may be canceled or changed due to unavoidable circumstances including health concerns, weather conditions and any event of Force Majeure. Thank you for your understanding.
・ See here for our usage agreement for your application.
・In case Inukai.Noson Butai is not available, Ono Sakurano Noson Buutai will be arranged alternatively.
・The performance at the Inukai Noson Butai/Ono Sakurano Noson Butai is subject to the schedules of preservation  society members, the narrator, and the shamisen player.
・ As an outdoor performance, it is also subject to weather conditions. If it is decided roughly 1 week in advance that  there is a high chance of rain or inclement weather that would interfere with the performance, it may be substituted by a Ningyo Joruri puppet theater performance and workshop at the Awa Jurobe Yashiki in Tokushima.
・ Persons age 6 and older (school age children) can participate
   Please inquire for reservations for the individual lodgings or restaurants mentioned on this page.
【About this tour】
This tour has been planned as part of our efforts to help achieve the SDGs (Sustainable Development Goals) adopted by the United Nations in 2015. A portion of tour fees paid by all participants will be used to maintain and pass on the tangible and intangible cultural assets of Kansai, the origin of Japanese culture, to the next generation. This aims to create a positive cycle of cultural tourism; we look forward to your participation.
【Sponsored Travel Agent】
AIR WORLD CO.,LTD.
Licensed by Ministry Transport Tourism Agency No.961