Discover The Full Of Charm in Tottori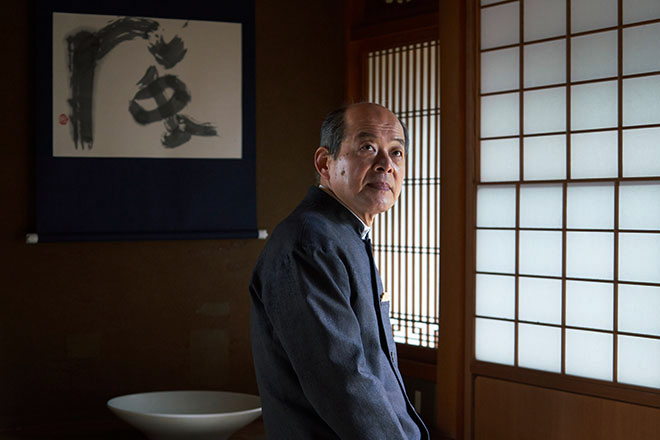 Have a once-in-a-lifetime encounter with a living national treasure, in a mansion that is an important cultural property. Enjoy a memorable vacation in Tottori by experiencing its food, history, and culture.
Tour highlights:
●A living National Treasure has been invited to a mansion designated as an important cultural property, where a private session, rarely to be had, has been organized with them.
●A variety of programs where you can experience the charm of Yumihama-gasuri (an indigo dyed cotton fabric), which is an intangible cultural asset that has been passed down through the generations in Tottori.
●Experience Zen meditation and yoga at an ancient temple, and taste a fare of vegetarian dishes that are based on Buddhist principles, to restore your body and mind.
Day 1: Truly feel the charm of Tottori, a place blessed with abundance and richness.
【Tenku-no-taki waterfall tour and lunch in Satoyama】
You will be picked up at the meeting point, Tottori Station, and taken to Chizu (town), the first destination of the tour. The restaurant where you will have lunch, "Sansai Ryori Mitakien," is located in an environment that is full of nature, surrounded by valleys and forests. At this nostalgic, thatched hut you can enjoy an exquisite menu that has been highly rated by even the Michelin Guide. The menu includes dishes such as grilled fish seasoned with homemade Sansho miso, and freshly laid eggs by free-range chickens.
After dinner, you will go to "Tenku-no-taki" Waterfall, which is accessible by foot. Look up at the rocky mountain above, and enjoy the spectacular scene of water rushing down, as well as the tranquil, unspoilt Japanese landscape that unfolds around it. 
Special Cultural Experience: Have a special chance to meet a master of white porcelain who continues to release his works. 
【Exclusive use of the Ishitani Residence + a talk by a Living National Treasure, and a Kirin Jishi Mai dance viewing】
Next, you will visit the "Ishitani Residence", which has been designated as a national important cultural property. It is the residence of the former Dai Shoya (village official), Ishitani Denshiro, and is a masterpiece of modern Japanese-style architecture, boasting as many as 40 rooms on a plot of land of about 3,000 tsubo (approx.10,000 square meters).
This time, the residence will has been rented for exclusive use, and the chance to have a private session with ceramic artist Akihiro Maeta has been organized. Mr. Maeta is a master of white porcelain that has a feeling of transparency and a soft roundness, and he continues to release his works. He boasts a long history of receiving many awards, both in Japan and abroad. In recognition of his achievements, he was certified as being a Living National Treasure in 2013, living up to his reputation as one of Asia's leading artists. Spend a special time listening to his passionate ideas about white porcelain, and the details of his works, in this rare opportunity to meet him.
In addition, a performance of the Kirin Jishi Mai dance, which is part of Japan's heritage and the pride of Tottori, will be given in a room with an earthen floor. You will be able to enjoy and appreciate traditional culture that is loved by many, as an art-form that brings happiness and good fortune. 

【Sanbutsu-ji Temple on Mount Mitoku, and Yado Shiontei】
With the promise of another reunion with the living national treasure, you will head to "Sanbutsu-ji Temple on Mount Mitoku". The temple was founded about 1,300 years ago, and is characterized by its unusual location in the mountains, 900 meters above sea level. The "Nageire Hall" is built into a hollow in the precipice, and is currently prohibited to visit directly due to its dangerous nature. From the observation point where you have a distant view of everything, let's put our hands together and pray for good things. 
You will check in to "Yado Shiontei" that evening – a luxurious hotel where you can enjoy to your heart's content, the Kaike hot spring water that gushes out of the ground. The guest rooms are spaciously designed with an area of over 100 square meters that you have all to yourself, so you can relax and unwind from the tiredness of your journey. In addition to carefully selected local ingredients, such as vegetables from contracted farmers, and live fish caught out of the Sea of Japan, caviar and truffles are also available for your meals. The sumptuous and exquisitely prepared Japanese menu has been well received by overseas guests. You can also see and appreciate Mr. Maeta's works at the hotel's gallery.
Day 2: A wide assortment of precious experiences, where you can learn about the history and traditions that have been passed down through the generations. 
【Sanrakuso Shukubo (lodging), Daisen-ji Temple Amida-do Hall】
You will stay at the hotel in the morning, and then go to "Sanrakuso Shukubo" in time for lunch. This is a lodging for pilgrims with a history of over 400 years, located in a quiet area at the foot of the mountain. The dishes served here are vegetarian, based on Buddhist principles. The ingredients used are mainly vegetables and grains, which are said to restore the body and mind when tasted. Once you have finished lunch, you will walk up the long stone-paved stairs to visit the "Daisen-ji Amida-do Hall, where the main object of worship – the Amithaba (Amida Buddha) – and two Bodhisattvas will welcome you. After a sermon by the head priest, you will have the option of trying Zen meditation for about 30 minutes. By facing oneself in silence and unifying one's mind, anyone can be immersed in a state of nothingness.
【Asian Museum and Yasushi Inoue Memorial Hall, Community Cotton Field, Yumihama-gasuri making experience】
This tour will also include a stop at a spot to learn about the history and culture of Tottori.
At the "Asian Museum and Yasushi Inoue Memorial Hall", valuable materials that show the history of Tottori, etc., which has had exchanges with Asian countries since ancient times, are on display. In the museum, you can also attend a lecture by traditional craftsman Mr. Hirofumi Tanaka, about the Yumihama-gasuri, an intangible cultural asset.
Next, you will visit the "Community Cotton Field," a huge cotton field of about 2 hectares, and then go to the "Yumihama Workshop" to get a closer and more in-depth look at Yumihama-gasuri. At the workshop, you will have a go at making coasters. The process of setting the weft and warp threads on the loom and carefully weaving, is a precise and delicate one. Under the guidance of a skilled craftsman, you will proceed with your weaving while taking their advice, and get a closer insight into the charm of this traditional craft, that has been passed down through the generations in Tottori.
●Tour price:
Starts at JPY 851,000 per person
●Deadline for reservations:
Three month before the tour (based on demand, no guarantee)
●Frequency:
Maximum one per month
●Minimum number of participants:
Two people
●Gathering/ending point:
Tottori Station/Yonago Kitaro Airport
●Special notes:
・Please note that the programs provided by the individuals mentioned in the itinerary may be canceled or changed due to unavoidable circumstances including health concerns. Thank you for your understanding.
・ Participation is limited to those aged six or above (school aged children).
・ See here for our usage agreement for your application.
Please inquire for reservations for the individual lodgings or restaurants mentioned on this page.
【About this tour】
This tour has been planned as part of our efforts to help achieve the SDGs (Sustainable Development Goals) adopted by the United Nations in 2015. A portion of tour fees paid by all participants will be used to maintain and pass on the tangible and intangible cultural assets of Kansai, the origin of Japanese culture, to the next generation. This aims to create a positive cycle of cultural tourism; we look forward to your participation.
【Sponsored Travel Agent】
AIR WORLD CO.,LTD.
Licensed by Ministry Transport Tourism Agency No.961