A journey into the mind-become a pilgrim in Wakayama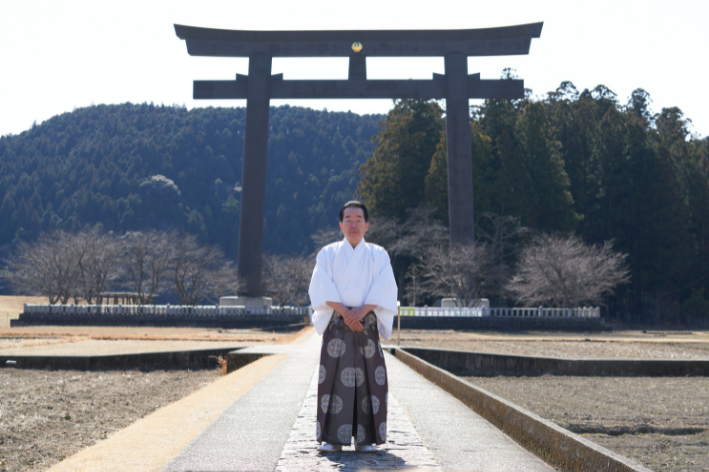 Visit Kumano, called "the Land of Rebirth," and feel the answer yourself why many Japanese sought after this land for over 1000 years.
Tour highlights:
●Attend a prayer ritual and listen to the priest at Kumano Hongu Taisha which is a World Heritage site.
●Walk on the two main roads on Kumano Kodo and reflect on the pilgrims who trod the road long ago.
●Watch the lively bidding at Katsuura Fishing Port which boasts Japan's biggest tuna catches.
Day 1: Go on pilgrimage deep through Kii Mountains where nature's power refreshes your soul
Get together at Shin-Osaka Station and head for JR Kii-Tanabe Station in Wakayama on Super Express. Enjoy the scenery through the windows. 
[Special Cultural Experience] Attend a prayer ritual in the head shrine with 2000 years of history.  
[Kumano Hongu Taisha]
We begin our journey at Kii-tanabe Station, where we meet our driver and head into the mountains. Over an hour later, we arrive at our first destination and the setting for our special cultural experience: Kumano Hongu Taisha.This shrine is one of the three Kumano grand shrines that are the center of the Kumano faith. It has 2000 years of history and is registered as part of UNESCO's World Heritage site, Sacred Sites and Pilgrimage Routes in Kii Mountain Range. During the special cultural experience, we will attend the prayer ritual at Shoujoden Hall, which is usually closed off from the public, and hear a priest expand on the original Japanese religious view and the history of Kumano. You will get to sit on Shoujoden Hall's porch and have other experiences exclusive to members of this tour. Feel the spirit of the holy mountains where gods reside.
Have lunch at Kumanoko Shokudo, which is a remodeled traditional Japanese house. They serve healthy gourmet with home-grown vegetables and wild-game menu.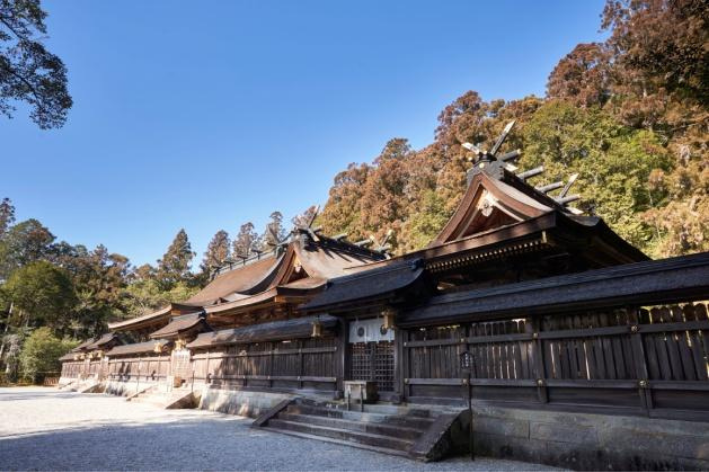 [Oyunohara, Kumano-gawa River Boat Ride Experience]
After lunch, we will head for Oyunohara, the former location of Kumano Hongu Taisha. What stands out there is Japan's biggest 34m-tall front gate, and now only leave the two stone worship. There is a legend that a god descended here, which is so fitting for this mystic land that seems to be filled with nature's energy. 
You will have an experience with a ride down the Kumano-gawa River in a private traditional wooden flat-bottom boat. The Kumano-gawa River was a vital section of the Kumano Kodo pilgrimage route between Kumano Hongu Taisha and Kumano Hayatama Taisha.Traditionally, this sacred waterway was considered an object of worship.The Kumano River, part of the Kumano Kodo pilgrimage routes, is designated a UNESCO World Heritage Site. Ride a slow-moving boat down the river to Kumano Hayatama Taisha Grand Shrine. Spend around 90 minutes experiencing magnificent nature and listening to the calls of wild birds as well as an explanation of points of interest provided by a "storyteller". And you can also enjoy a traditional bamboo flute performance played by a guide.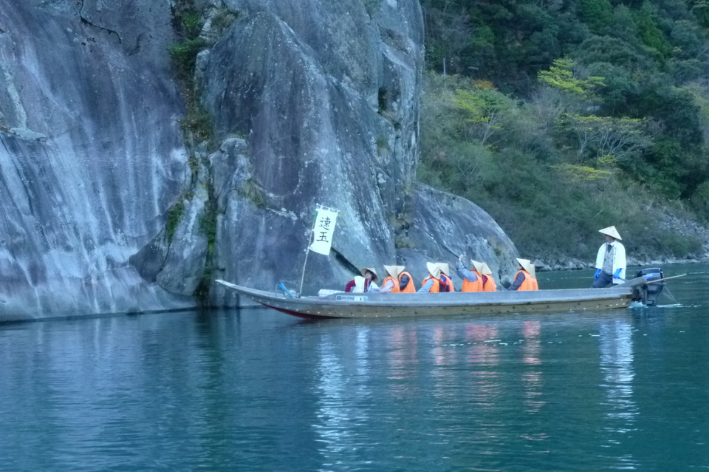 At the next stop, we will head to Kumano Hayatama Taisha, a shrine with great spiritual power that grants wishes for marriage and marital bliss. After paying your respects to the Husband and wife God, you will be given a precious talisman called "kumano goou-houin". About a kilometer south of the shrine, we will stop at the historic Kamikura-Jinja Shrine, which has a shrine building on a cliff with a spectacular view.
The inn for the night is Kumano-bettei Nakanoshima on an island in Katsuura Bay. Kaiseki Dinner is outstanding with raw tuna, abalone, Kumano beef, Kishu-Nanko Plum and other delicacies from the local sea and mountains(The food shown in the photograph below is only an example. Actual meals may vary depending on season and your chosen stay plan)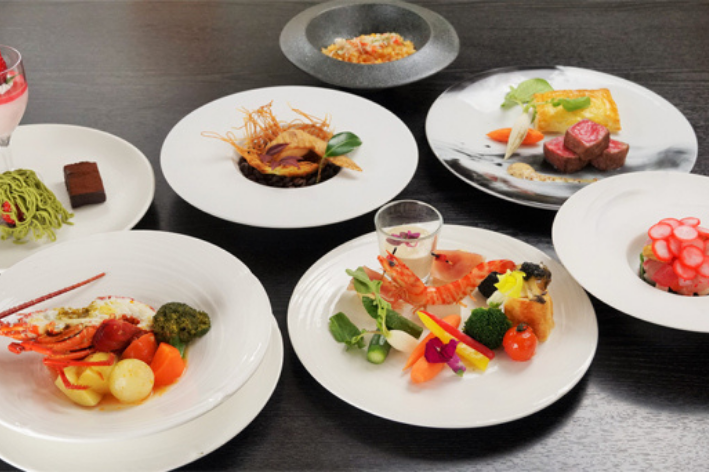 Day 2: With the wish for peace in this life and heaven, start for the holy land with a lovely waterfall 
[Katsuura Port, Breakfast and fudarakusanji Temple] 
We will rise early and head for Katsuura fishing Port to watch the bidding before breakfast. This port boasts the biggest catches of tuna in Japan. In the bidding place, a crane lays out giant tuna from wall to wall. It is intriguing to see the particular exchanges between bidders and middlemen turning into quick deals.
After returning to the inn, breakfast will be served, then, checkout. A shuttle bus will take us to the next destination, fudarakusanji Temple. We will see the Nachi Sankei Mandara painting that depicts Kumano's shrines and temples, while a guide will share entertaining stories about Kumano, which may make you feel like you are on a pilgrimage at the holy land.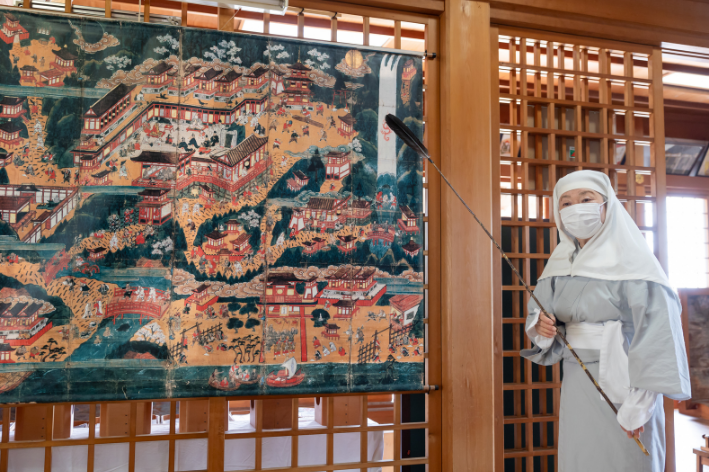 [Daimonzaka (Kumano Kodo), Kumano Nachi Taisha and Mt. Nachi Seigantoji Temple]
We veer off the 1st-day's route and reach over to Daimonzaka Slope, which takes us to the holy Mt. Nachi in about 35 minutes. the mossy stone stairs cuddled with an 800-year-old cedar grove will help you relive the golden time of Kumano pilgrimage. With a lunch break in between, we will get to Kumano Nachi Taisha. Nachi's primeval forest surrounds this ancient shrine, the origin of Kumano faith. We will attend the prayer ritual in the elegant hall painted in red, tour around the ground, and stop by at the treasure hall as well as the neighboring Nachisan Seigantoji Temple.
[Nachi Falls, Kumano Myohozan Amida-ji Temple and Irokawa District]
Kumano Nachi Taisha's sacred embodiment, Nachi Falls drops 133m. The powerful water runs as if it is cutting through the primeval forest. Put your hands together and pray for peace in this world and entrance into heaven. Then, try sipping the fall's water famous for the blessing of longevity.
Afterward, a shuttle bus will take us to Kumano Myohozan Amida-ji Temple on a mountain top at 749m above sea level. It is believed to be the gate to the next world where the deceased souls have to pass by. 
Lastly, we will enjoy looking at a village through the bus windows, which is caressed by nature in Irokawa District. The traditional Japanese countryside, serene with tea fields and terraced rice paddies, is a beautiful conclusion to our tour.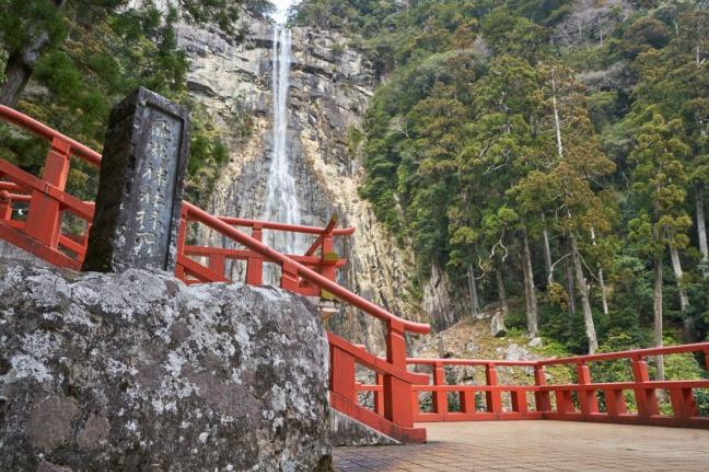 ●Tour price:
Starts at JPY 1,012,900 for a party of two.
●Deadline for reservations:
One month before the tour (based on demand, no guarantee)
●Frequency:
Maximum one per month
●Minimum number of participants:
Two People
●Gathering/ending point:
Shin-Osaka station/shin-Osaka Station
●Special notes:
・Please note that the programs provided by the individuals mentioned in the itinerary may be canceled or changed due to unavoidable circumstances including health concerns. Thank you for your understanding.
・ Participation is limited to those aged six or above (school aged children).
・ See here for our usage agreement for your application.
Please inquire for reservations for the individual lodgings or restaurants mentioned on this page.
【About this tour】
This tour has been planned as part of our efforts to help achieve the SDGs (Sustainable Development Goals) adopted by the United Nations in 2015. A portion of tour fees paid by all participants will be used to maintain and pass on the tangible and intangible cultural assets of Kansai, the origin of Japanese culture, to the next generation. This aims to create a positive cycle of cultural tourism; we look forward to your participation.
【Sponsored Travel Agent】
AIR WORLD CO.,LTD.
Licensed by Ministry Transport Tourism Agency No.961